Shiiin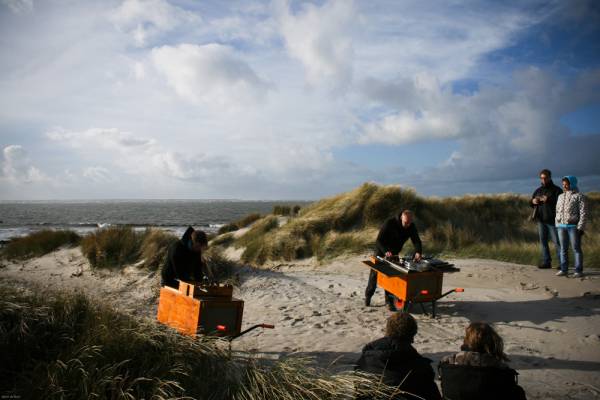 Shiiin op IslandCQ Festival 2010, Ameland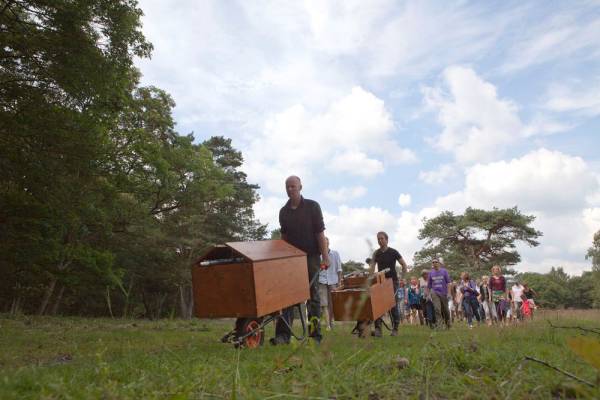 Shiiin op Festival der Aa, Schipborg, 2011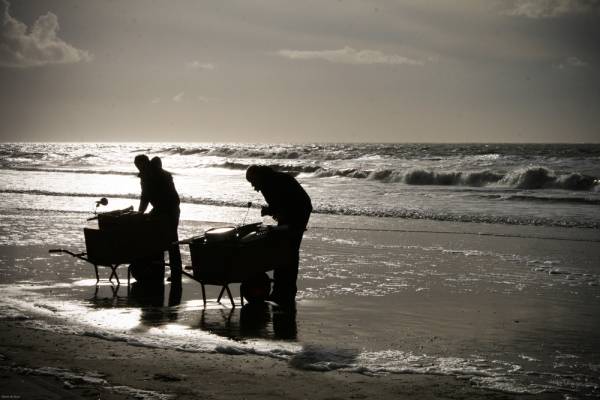 Shiiin op IslandCQ Festival 2010, Ameland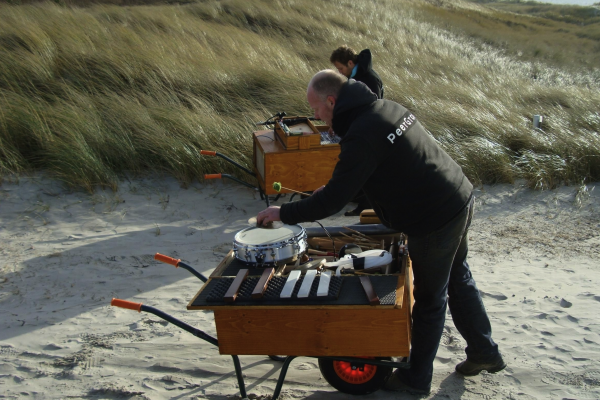 Shiiin op IslandCQ Festival 2010, Ameland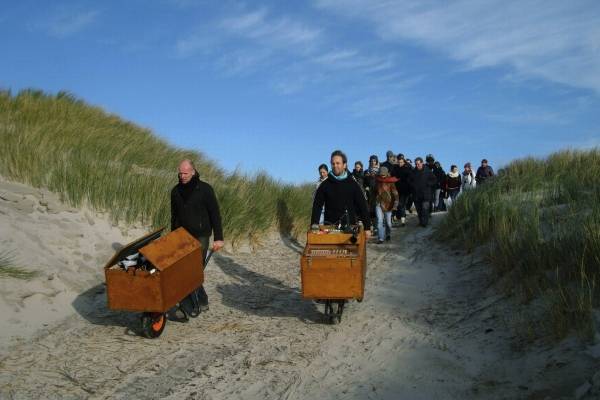 Shiiin op IslandCQ Festival 2010, Ameland
Shiiin is a Japanese onomatopoeia for 'absolute silence' and it's the title of the musical journey that Dennis van Tilburg and Sytze Pruiksma developed together. The two musicians take their audience for a walk through the landscape, while giving voice to nature. A falcon passing overhead or the shadow of a cloud form their musical score. In order to capture what happens around them, they have built a mobile sound installation on wheelbarrows. With a special set of instruments and live sampling they create a composition that grows out of what they see and hear while walking.
Shiiin is about experiencing the landscape and about making optimal use of the senses. In their collaboration with the surroundings Dennis and Sytze offer the audience the chance to experience the landscape in a complete new way. Dennis: "Our starting point is that the audience experiences the surroundings as a film; Sytze and I put music under it. You create the film, we supply the soundtrack."
In 2008 Shiiin was developed in collaboration with theatre company PeerGrouP. Until now it was performed a twenty times in several places and festivals in The Netherlands. In 2010 a special edition with poet Tsjêbbe Hettinga was performed at the Springtij Festival and at the Oerol Festival on the island of Terschelling. In September 2012 'Shiiin dance' was performed in Veenhuizen Boeit, with contemporary dancer Anne Suurendonk and visual artist Jannie Regnerus.
To book Shiiin, please write an email to info@sytzepruiksma.com or dennisvantilburg@gmail.com