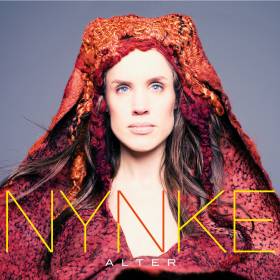 Nynke Laverman
Alter
2013,Crammed Discs
For this album Nynke collaborated with the famous, multiple award-winning producer/guitarist Javier Limón from Spain. Nynke's vocal talents attracted his attention, he became fascinated by her original take on Mediterranean music and wanted to produce her new album. They were soon united by their common love for language and poetry, and by their long-time, respective quests for ways to capture emotion in music.
Javier Limón: "The music of the words in Frisian is very strong and in the songs you hear the sound of the landscape, the wide expanses, the long lines and the huge sky. Then there's this exceptional voice: when Nynke starts to sing, something happens."
They combined a musical basis of flamenco rhythms & guitars with the characteristic percussion of the Frisian percussionist/composer Sytze Pruiksma and the sound of the Noardske balke, an old traditional Frisian string instrument. ALTER was recorded and mixed by Salomé Limón in the Casa Limón studio in Madrid. A handful of Spanish contributors took part in the recordings, including Manuel Machado on flügelhorn, Antonio Serrano on harmonica, Rafael Jiménez 'El Chispas' on cajón, flamenco singer Saúl Quirós and flamenco dancer Belén López.
The lyrics of all songs are written by Nynke, with the exception of Foarjiersfers (based on a poem by Rutger Kopland, translated by Nynke), De Brulloft (a cover of a song by Lhasa de Sela, translated by Nynke), and Eftereach (co-written with Frisian poet/performer Tsjêbbe Hettinga, whose voice appears in the piece). With her distinctive style of poetry, Nynke has created a kind of hymn to Spring, to love, to birth, to nature, and to the moods and feelings elicited by those peculiar, broad Frisian landscapes.
The word 'Alter' has multiple significations in different languages: it's the Frisian word for 'altar', a term connected with rituals around life, an element that is present in the album. Nynke becoming a mother (a year before the recording) and her fascination for the continuous transformation of life are reflected in the English meaning of alter: the verb 'to change'. Another key to this album may be found in the Latin signification of the word 'alter': 'other', a word which epitomizes Nynke's musical endeavours, as well as her personal commitments in favour of biodiversity and cultural diversity.
For the artwork Nynke worked with the internationally renowned felt artist Claudy Jongstra. She created a felt piece in different shades of red, dyed with the madder root, a typical Dutch plant. The woven threads in the cap refer to the traditional Frisian head-piece and the head of a dragonfly, an animal that symbolizes 'transformation'. The photography for the album cover was done by the acclaimed Dutch photographer Marcel van der Vlugt.Marcel van der Vlugt.
Nynke has joined forces with Crammed Discs, who release ALTER internationally and will present Nynke's unique work to audiences around the world.